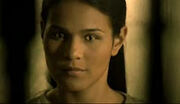 Cecille is the new nanny of benjo. Is the replacement of the nanny of Benjo and she is known to be an aswang or vampire
Her career is a nanny. She was hired by Benjo's mother. Benjo had discovered that Cecille is an
Aswang.
Benjo should not to let her eat Benjo's Young Sister. Later, Cecille become an Aswang. Bejo starts to fight with her.
Cecille was killed by Benjo using Garlic.
Aswang is a vampire or a creature
Cecille was played by Iza Calzado
Apearances
Edit
Ad blocker interference detected!
Wikia is a free-to-use site that makes money from advertising. We have a modified experience for viewers using ad blockers

Wikia is not accessible if you've made further modifications. Remove the custom ad blocker rule(s) and the page will load as expected.