{{{Title}}}
[[Image:{{{Image}}}|{{{Title}}}|250px]]
Directed by
{{{Director}}}
Episode Writer
{{{Episode Writer}}}
Preceeded by
{{{Preceeded}}}
Followed by
{{{Followed}}}
Pridyider is the 2nd Episode of Shake Rattle and Roll.
Lorna (Charito Solis) and her daughter Virgie (Janice de Belen) move to a new house with Dodong (William Martinez), the nephew of Lorna's husband. Their home includes an old refrigerator from the kitchen. The next day, Lorna became suspicious on their refrigerator after she saw visions of body parts around her when she gather the food. Later when their housekeeper Nelia (Emily Loren) was taking her snack, the refrigerator attacks her. The fridge drags Nelia and slams her repeatedly before she collapses on the floor dead. In the investigation by Detective Caloy Torres (Lito Gruet) about Nelia's death, the detective believes that Dodong was responsible for the incident but Lorna claims that he was innocent. After he left the house, Torres explain to Lorna about the incident and Dodong. He tells her that she must watch over Dodong and her daughter. Meanwhile, Virgie's boyfriend Max (Mon Alvir) was killed by the fridge when Lorna discovers his severed arm. Lorna contacts detective Torres to their home to arrest Rufino Robles Jr Dodong but discovered that he was also killed when the detective finds his decapitated head in the fridge. Torres became suspicious on how the incident was related to the previous crime that happened in 1975. As he was researching in the previous newspapers about the crime, it is revealed that a serial killer murders his victims and hide their chopped body parts in the refrigerator. Discerned about the danger happened to Lorna and her daughter, Torres races to the house to save them. Meanwhile at the house, the refrigerator began to consume Virgie when Torres and Lorna arrive and tried to save her but the fridge was able to consume Virgie further. Lorna manage to pull the plug off the fridge from the socket, neutralizes the refrigerator's power and saving her daughter from danger. After Lorna comforts her daughter, Torres show the family the newspapers about the crime that happened in the house.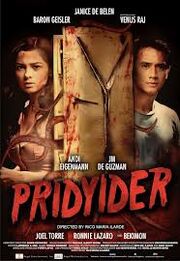 The episode was remade by Regal Films into a full length movie. The story of the remade version revolves around Tina Benitez who has lived abroad since she was a child and returns to the Philippines after inheriting an old house from her deceased parents. Strange things starts to happen inside the house after she has moved in, particularly in the kitchen where a huge refrigirator resides. She doesn't mind any of the things at first but after seeing the refrigirator consuming one of her friends she decides to find out the mystery behind the refrigirator.
The film stars: Andi Eigenmann, JM De Guzman, Janice De Belen, Joel Torre, Barron Geisler, Bekimon and introducing Venus Raj. The film is directed by Rico Maria Ilarde.