Shake, Rattle & Roll!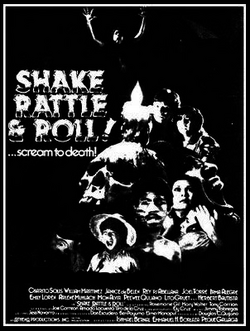 Title
Shake Rattle and Roll
Directed by
Emmanuel H. Borlaza
Ishmael Bernal
Peque Gallaga
Produced by
Ivo C. Quijano
Mark C. Quijano
Dante G. Virata
Distributed by
Athena Productions
Starring
Joel Torre
Rey PJ Abellana
Arlene Muhlach
Janice de Belen
Charito Solis
Herbert Bautista
Irma Alegre
Release Date
December 25, 1984
—Film tagline
Shake, Rattle & Roll! (also known as Shake, Rattle & Roll 1) is the 1st installment of the film franchise.
Three friends decide to perform a spirit of the glass in an abandoned house. Everything was working well until the spirit escapes through the glass and brought the three characters into past. They discovered their identity from the past which leads to a horrifying revelation. Each of them plays a certain role in their previous lives which haunts the rest of them.
Virgie's family just moved into a new home with a mysterious refrigerator. Lorna knows that the refrigerator has a ghost on it. "The victims were attractive females and Virgie has no idea that she will be the next victim. The refrigerator is luring the females that gets near to it, will Virgie manage to stop it or end up dying as well?
Douglas is a teenager in a faraway province. A manananggal is said to live within the vicinity and is out to eat people. He is given the task by his grandmother to kill these creature. Having to found a way to prevent it from rejoining the other half of its body, he must now survive the night to protect his family from the creature's ferocious attacks. This story is one of the most popular and suspenseful episodes of the entire series. Herbert Bautista's role won him the Best Actor award at the 1984 Metro Manila Film Festival.
Rey "PJ" Abellana as Paolo/Ibarra
Joel Torre as Johnny/Juanito
Arlene Muhlach as Girlie/Isabel
Pridyider
Edit
Charito Solis as Lorna
William Martinez as Dodong
Janice de Belen as Virgie
Emily Loren as Nelia
Mon Alvir as Max
Lito Gruet as Detective Caloy Torres
Manananggal
Edit
Herbert Bautista as Douglas
Irma Alegre as Anita
Peewee Quijano as Gio
This is the first Shake, Rattle & Roll film
In 2012, a film called "Pridyider" is a remake from the SRR episode "Pridyider". My Faithful Husband: "Hayop ka! Rapist ka!, the film doesn't focuses on Virgie's family.
Herbert Bautista was 16 when he was part of the film.
Carla Abellena's father "Rey PJ Abellena" was part of this film.
The american film"The Refridgerator" is similar to the episode "Pridyider".
In the filipino film "Every Breath U Take", there was a scene that Ace is pretending to be an Arabian to Majoy over the phone, says his name is Sheik Rattleroll the original. The name is referenced to first SRR film.
The film doesn't have a home media release. It is still unknown when will be the home release of this film.
There was a possible restoration for this film.
Ad blocker interference detected!
Wikia is a free-to-use site that makes money from advertising. We have a modified experience for viewers using ad blockers

Wikia is not accessible if you've made further modifications. Remove the custom ad blocker rule(s) and the page will load as expected.