Shake Rattle and Roll II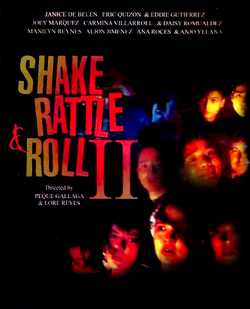 Title
Shake Rattle and Roll II
Directed by
Peque Gallaga
Lore Reyes
Produced by
Lily Monteverde
Distributed by
Regal Films
Starring
Eric Quizon
Janice de Belen
Joey Marquez
Carmina Villaroel
Manilyn Reynes
Release Date
December 25, 1990
Shake, Rattle & Roll II is the second installment of the Shake Rattle & Roll franchise. It was distributed by Regal Films. It is directed by Peque Gallaga & Lore Reyes. This film is an entry of the 1990 Metro Manila Film Festival. It is the first starring role of Manilyn Reynes before the following sequels.
Cathy and Mari are newlyweds spending their honeymoon in Baguio. Soon after, Mari wears a mysterious ring; apparently belonging to a murderer named Dr. Corpuz. But once the ring is worn, it becomes irremovable. Finally, the murderer's ghost takes hold of Mari and takes his next victim.
Bogart (Joey Marquez), a handicapped and overmodest patient, has feelings for Dra. Kalbaryo (Daisy Romualdez), his arrogant but affectionate doctor, who does his check-up. After Kalbaryo finishes his check-up, Bogart's friend Tiffany (Carmina Villaroel) visits him in his room and started to talk. As Tiffany leaves, Melanie (Sylvia Sanchez), a troubled and flirtatious nurse began to have sex with Bogart. When Dra. Kalbaryo returns, she is enraged at seeing them inter-coursing each other and fires Melanie. Kalbaryo berates Bogart for his love to her and reveals her family heritage. Kalbaryo later reveals herself to be a witch, born under her great grandfather who is a witch doctor. When Bogart refuse to profess his love to Kalbaryo, she began to torture him by performing a voodoo on him using his hair to a voodoo doll. As Kalbaryo was being paged and leave, Tiffany had left her books in the hospital and return to Bogart's room that was clad in a tiki hut. Bogart urges Tiffany to help him escape.
Kalbaryo, who had noticed that Bogart escape, found him hiding in the nursery room with Tiffany and turns all the babies into tiyanaks. Bogart and Tiffany manage to escape and hide in the zoology laboratory where they find Melanie. After they explain to her about Kalbaryo, Melanie told them that witches use body parts from their victims in their voodoo dolls to perform their voodoo. Tiffany realized that she had Kalbaryo's hairbrush earlier after they bumped each other. Melanie must make a fake paging to Dra. Kalbaryo to allow Tiffany to enter the room and replace Kalbaryo's hair into Bogart's voodoo doll.
Melanie hides Bogart at a morgue for protection but Kalbaryo cast a spell to reincarnate the bodies of the bus crash victims from the morgue. After Kalbaryo left, Tiffany sneaks into the room and manage to replace the hair in the voodoo doll. Kalbaryo returns and caught Tiffany, after she had replaced the hair, taking the voodoo doll away from her. She tells Tiffany to watch as she turns her friend into a frog but unaware to her of the doll that has her hair, she had turned herself into a frog. Meanwhile, Bogart and Melanie were attacked by the reincarnated bus victims. Tiffany manage to reverse the spell, saving them.
As the trio began celebrating; Melanie notice Kalbaryo, who was still a frog, following them and urging for help. After being insulted by Kalbaryo, Melanie takes her in the zoology laboratory where she will be used for dissecting frogs.
A barkada spend an outing in a faraway province whose inhabitants were all vampires. Ana Roces plays the host tricking her best friend Portia (Manilyn Reynes). Because on their fiesta, townsfolk must eat a virgin for their celebration to be completed. Will Portia escape before she gets consumed by the townspeople?
Cast And Credits
Edit
Cast:
Directors: Peque Gallaga & Lore Reyes
Writer: Peque Gallaga, Lore Reyes & Don Escudero
Cast:

Daisy Romualdez as Dra. Kalbaryo
Sylvia Sanchez  as Melanie
Jose Javier Reyes as Morgue Attendant

Directors: Peque Gallaga & Lore Reyes
Writer: Peque Gallaga, Lore Reyes & Don Escudero
Cast:

Manilyn Reynes as Portia
Ana Roces as Monica
Aljon Jimenez as Ricky
Anjo Yllana as Milo
 Richard Gomez as Tricycle Driver
Vangie Labalan as Nanay
Rez Cortez as Tanda

Directors: Lore Reyes & Peque Gallaga
Writer: Peque Gallaga, Lore Reyes & Don Escudero
This is the first film to include a witch.
Janice (from Tiyanak) was mentioned in the film.
This is the 1st film that has humurous features.
The 3rd episode of this film is inspired on a true story about Teniente Gimo.
This is Joey Marquez first role in an SRR series.
This is the 1st film to be directed by 2 directors.
This is Manilyn Reynes first role in the SRR series.
This is the first film to include aswangs and witches.
The film started shooting in 1989.