Shake Rattle and Roll IV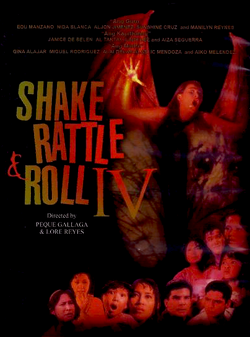 Title
Shake Rattle and Roll IV
Directed by
Peque Gallaga
Lore Reyes
Produced by
Lily Monteverde
Distributed by
Regal Films
Starring
Manilyn Reynes
Aiza Seguerra
Ai-Ai delas Alas
Release Date
December 25, 1992
Shake, Rattle & Roll 4 is a 4th installment of the franchise.
"ANG GURO"
Edit
Jodie is one of many female students who has a crush on Mr. Zerrudo her handsome chemistry teacher. Jodie found out that Mr. Zerrudo became a monster after he drinks a chemical
"ANG KAPITBAHAY"
Edit
four children are abducted by a Witawit a creature who lives in the tree. Nikkie rescue the abducted children
ANG MADRE"
Edit
The people who live in a crowded slum are all convinced that a Manananggal is responsible for a series of horrific murders. They suspect that their new neighbor Aling Iya is the Manananggal but Teks suspects that the barangay nun is the creature.
Cast And Credits
Edit
Cast:

Manilyn Reynes as Jodi 
Edu Manzano as Mr. Zerrudo
Aljon Jimenez as Mabu
Mon Confiado as Best Man
Mae Ann Adonis as Mrs. Pecatoste
Dido Dela Paz as  Mr. Abesamis
Koko Trinidad as  Priest

Directors: Peque Gallaga & Lore Reyes
Writers: Lore Reyes
"Kapitbahay"
Edit
Cast:

Aiza Seguerra as Nikkie
Janice de Belen as Yaya Tasing
Al Tantay as Rod Mallari
Malou De Guzman as Mrs. Mallari
Vangie Labalan as Yaya Gi
Philip Gamboa as Captain Salvi
Romy Romulo as Lieutenant Damaso 
Ram Mojica as  Andrew
Rene Hinojales as Witawit
Rea Xeniana as Sheila 
Lady Lee as Bambi

Directors: Lore Reyes & Peque Gallaga
Writers: Peque Gallaga
Cast:
Directors: Lore Reyes & Peque Gallaga
Writer: Peque Gallaga
In "Ang Madre", The mananggal was clearly seen as dummy during the mananggal flies towards Teks.
In "Ang Guro", Gretch was eaten by Mr. Zerrudo. The mistake here is The wig of the dummy (Gretch) fells off.
At the end credits, the song was suddenly cut.
This is the 2nd film to be included a manananggal.
This is the 1st film to be included a child wonder.
Ad blocker interference detected!
Wikia is a free-to-use site that makes money from advertising. We have a modified experience for viewers using ad blockers

Wikia is not accessible if you've made further modifications. Remove the custom ad blocker rule(s) and the page will load as expected.